Vannevar Bush
Vannevar Bush (Chelsea, Massachusetts, 11 de Março de 1890 — 30 de Junho de 1974) é, para muitos, o verdadeiro pai do hipertexto. Em 1945 escreveu um artigo intitulado "As We May Think", no qual descrevia um dispositivo chamado Memex. O seu objetivo era aumentar a memória humana providenciando os meios para organizar a informação associadamente.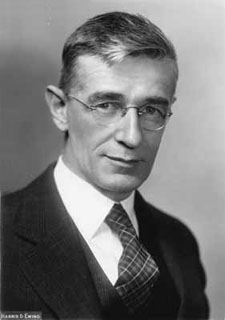 Bush foi uma figura de liderança no desenvolvimento do complexo militar-industrial. Foi grande responsável pelo financiamento militar em ciência nos Estados Unidos. Era um proeminente criador de políticas de incentivo e um intelectual público. Foi considerado como o santo patrono da ciência americana ("the patron saint of American science") durante a Segunda Guerra Mundial e o início da Guerra Fria.
Bush achava que a mente trabalhava por associação, criando uma intrincada rede de vias, interconectando as memórias e os dados nela armazenados. Portanto, sentiu que o melhor desenho para organizar mecanicamente a informação deveria incorporar a associação. Então, o seu desenho conceptual para o Memex assegurava os meios para o utilizador juntar vários pedaços de informação, forjando vias de comunicação entre eles. Todo o item poderia ser ligado por muitas vias. O Memex deveria também permitir ao utilizador tomar nota de cada pedaço de informação, entrar com a sua própria informação e ligá-la a essa rede de vias já existentes.
O Memex nunca foi construído, ainda que Bush o considerasse como um produto da extensão de tecnologias existentes em 1945. No entanto, os conceitos a ele subjacentes inspiraram sucessivos visionários, como Douglas Engelbart e Ted Nelson.
Publicações:
1922, Principles of Electrical Engineering.
1929, Operational Circuit Analysis.
1945, July, "As We May Think", Atlantic Monthly.
1946, Endless Horizons.
1949, "Modern Arms and Free Men".
1967, Science Is Not Enough.
1970, "Pieces of the Action".
Bibliografia:
http://www.citi.pt/homepages/espaco/html/vannevar_bush.html
http://pt.wikipedia.org/wiki/Vannevar_Bush
Autores:
Fábio Queiroz Rocha
Ronaldo de Oliveira de Souza
page revision: 12, last edited: 14 Mar 2009 01:08